Roll over image to zoom in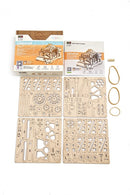 Description
Assemble the Variator and uncover the inner workings of this remarkable device. This model kit includes a QR code leading to a comprehensive study guide about the mechanism, its operation principles, main characteristics, formulas, and engaging assignments. Immerse yourself in augmented reality to witness the Variator in action and interact with it using Ugears' special AR application.
Discover the Variator:
The Variator is a crucial component that transfers and adjusts engine torque by altering the gear ratio. This change can occur automatically, manually, or according to a preset program. You may be more familiar with the term Continuously Variable Transmission (CVT). With the DIY wooden puzzle Variator from the STEM lab collection, you can understand one of the most vital parts of a car without getting your hands dirty with machine oil!
Inventor and Early Use:
The roots of modern car CVTs trace back to 1879 when American entrepreneur and automobile industry pioneer Milton Othello Reeves invented a variable-speed transmission initially designed for sawmilling. Later, he adapted this transmission to his cars, and it was also adopted by other manufacturers.
Applications:
CVTs are utilized in mechanisms that require a seamless change in gear ratios, such as cars, motor scooters, snowmobiles, quadracycles, conveyors, and metal-cutting machines. Experience how they are used in various equipment types with the AR application provided with the Ugears STEM model.
Design and Operation:
The mechanical puzzle Variator from Ugears' STEM lab collection is a fully functional wooden replica of a Belt-driven Friction Cone CVT. The Cone CVT adjusts the drive ratio by moving a wheel or belt along the axis of conical rollers. In the Ugears model kit Variator, the belt, manually powered via a reducer, transfers rotation to the driven cone pulleys. Utilize the transmission fork to change gears and observe the speed of the driven cone pulley as it rises or falls while the drive cone pulley's speed remains constant. Thanks to the model's open design, you can witness the entire process.
Product Details:
Model Size: 6.6 x 5 x 4.2 inches (16.8 x 12.8 x 10.6 cm)
Package Size: 8.1 x 7.4 x 2.5 inches (20.5 x 18.8 x 6.3 cm)
Number of Components: 104
Estimated Assembly Time: 4 hours
Experience the Advantages of Ugears Mechanical Wooden Models:
No Glue Connection: Assemble without the need for glue or chemicals
Self-Assembly: Parts are pre-cut and ready to assemble
Mechanical: These models produce motion
Educational: Perfect for family projects and hands-on STEM learning
Payment & Security
Your payment information is processed securely. We do not store credit card details nor have access to your credit card information.