Roll over image to zoom in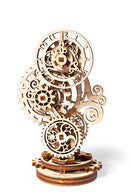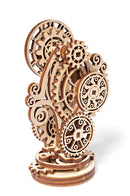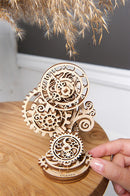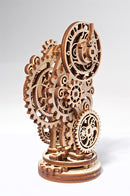 Description
Puzzle 3D fai da te in legno Steampunk Clock – idea regalo perfetta di Ugears
L'essenza stessa di Steampunk, il puzzle 3D "Steampunk Clock" di Ugears è qui per ricordarti il vero spirito di questo stile unico che unisce arte, scienza e meccanica straordinaria.

Questo modello è un'imitazione in miniatura di un orologio con un delicato corpo intagliato e un meccanismo intelligente che mette in moto i suoi ingranaggi e fa muovere le lancette dell'orologio. Bellissimi ornamenti simili a pizzi dell'orologio Steampunk includono disegni floreali, il sole, le stelle e la luna.

Il bellissimo ingranaggio del modello include un originale accoppiamento ad angolo di 90 gradi che puoi osservare quando il meccanismo è in funzione. Insieme a una connessione intelligente degli ingranaggi, gli ingegneri di Ugears hanno implementato un'altra caratteristica interessante: le lancette dell'orologio non sincronizzate che si trovano sullo stesso asse. Ognuno di loro si muove con il proprio ritmo.

L'orologio Steampunk è facile da montare, il che lo rende un modello perfetto per iniziare se sei nuovo nell'affascinante mondo di Ugears. Tuttavia, nel caso in cui siate con noi da un po' di tempo, vorrete sicuramente questo eccezionale puzzle per la vostra collezione.

Il modello è realizzato con materiali naturali e ha un piacevole profumo di legno. Tutto ciò di cui hai bisogno per assemblare il tuo orologio Steampunk è incluso nella confezione, non sono necessari colla o strumenti aggiuntivi.

Se vuoi suscitare la curiosità di qualcuno e introdurlo nell'affascinante mondo della meccanica, non c'è modo migliore per farlo che invitarlo ad assemblare l'affascinante Steampunk Clock di Ugears.
Kit modello meccanico «Orologio Steampunk».
Dimensioni del modello: 2,1 * 3,1 * 4,9 pollici (5,3 * 7,8 * 12,5 cm)
Dimensione del pacchetto: 3,5 * 10,8 * 0,4 pollici (9 * 27,5 * 0,9 cm)

Numero di componenti: 43
Tempo stimato di montaggio: 1 ora
Livello: Facile
Payment & Security
Your payment information is processed securely. We do not store credit card details nor have access to your credit card information.