Roll over image to zoom in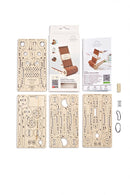 Description
Kit modello porta telefono pieghevole, puzzle 3D in legno
Seguendo la tendenza moderna del design minimalista e funzionale, Ugears è orgogliosa di presentare una nuova aggiunta intelligente e pratica alla loro collezione di modelli meccanici in legno, il supporto per telefono pieghevole della mini-serie.
Linee pulite e funzionalità unite al design iconico di Ugear sono state le fondamenta su cui è nata e sviluppata l'idea del supporto per telefono pieghevole. Rimanendo fedeli ai materiali naturali e all'approccio tutto ciò di cui hai bisogno in una scatola, i designer di Ugears hanno creato un modello in legno che non è solo un divertente puzzle 3D o un progetto fai-da-te, ma anche un utile compagno nelle tue attività quotidiane. Inoltre, il supporto per telefono pieghevole è un'idea regalo perfetta.

I telefoni cellulari sono diventati una parte importante di tutti gli aspetti della nostra vita: sono sia assistenti aziendali indispensabili che gadget di intrattenimento all-in-one. Che si tratti di un'importante teleconferenza quando hai bisogno delle mani libere o di un paio di minuti rilassanti sfogliando video divertenti di gatti, il supporto per telefono pieghevole è qui per rendere la tua esperienza più comoda e piacevole.

Questo supporto per cellulare da tavolo ha un angolo di supporto regolabile che offre tre comode posizioni. Fornisce un supporto extra per i telefoni più grandi. La posizione può essere regolata girando la rotella centrale sulla piega. Per impedire lo scivolamento e garantire che il telefono sia in posizione, il supporto posteriore è dotato di due elastici. L'Holder è perfetto per i viaggi: si ripiega ordinatamente fino a raggiungere una dimensione portatile e può stare in una borsa o persino in una tasca.

Il supporto per telefono pieghevole portatile, stabile e universalmente compatibile è in attesa di diventare il tuo partner affidabile negli affari e nel divertimento.
Supporto per telefono pieghevole
Dimensioni del modello: 4,8 * 2,6 * 4,6 pollici (12,2 * 6,5 * 11,7 cm)
Dimensione del pacchetto: 3,6 * 8,3 * 0,6 pollici (9,2 * 21 * 1,5 cm)

Numero di componenti: 73
Tempo stimato di montaggio: 2 ore
Livello: Facile
Payment & Security
Your payment information is processed securely. We do not store credit card details nor have access to your credit card information.