Roll over image to zoom in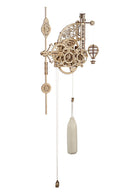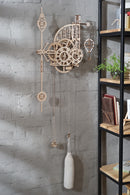 Description
Aero-Uhr. Wanduhr mit Pendel – mechanisches 3D-Puzzle aus Holz von UGEARS
Die Zeit ist gekommen! Seit Jahren hören wir von unseren treuen Kunden immer wieder die gleiche Frage: "Kann Ugears einen funktionierenden Uhrenmodellbausatz herstellen, der tatsächlich die genaue Zeit anzeigt?""Eine funktionierende mechanische Holzuhr ist seit langem unser meistgefragtes neues Design Nr. 1. Ihr Traum war auch unser Traum, und unser Team aus engagierten Ugears-Ingenieuren und -Designern hat hart daran gearbeitet, diesen gemeinsamen Traum in die Realität umzusetzen. Endlich hat das Warten ein Ende. Ugears ist stolz, die Aero Clock zu präsentieren, eine voll funktionsfähige DIY-Wanduhr mit Pendel.

Die Aero Clock ist nicht nur ein mechanisches 3D-Holzmodell oder ein hübsches Prunkstück. Die Ugears-Uhr ist eine echte Arbeitsuhr, die Sie selbst bauen, an der Wand befestigen, aufziehen und dann zusehen können, wie die Sekunden, Minuten und Stunden vergehen. Die Aero Clock ist ein genialer Puzzle- und DIY-Uhrmechanismus, anders als jede andere Uhr. Es ist ein schönes Stück präziser Ingenieurskunst, das Bauherren und Betrachtern gleichermaßen die Funktionsweise einer gewichteten Pendeluhr offenbart. Wie alle Ugears-Modelle verfügt auch dieses Modell über einen Hauch von Verspieltheit, um unsere wachsende Schar von Fans zu fesseln und zu bezaubern.

Diese einfache, aber elegante Ugears-Uhr wird durch die Schwerkraft angetrieben, die einen beschwerten Beutel nach unten zieht (Sie können den Beutel mit Sand oder Salz füllen). Heben Sie die Tasche an ihren Rollen an, um die Uhr aufzuziehen. Wenn das Gewicht langsam absinkt, dreht es ein Antriebsrad, das dann über ein Untersetzungsgetriebe ein Hemmungsrad dreht. Die Uhr verfügt über ein verstellbares, gewichtetes Pendel, das durch das gleichmäßige Ticken des Ankermechanismus mit dem Ankerrad interagiert. Sie können das Ticken der Uhr sekundengenau anpassen, indem Sie die oberen und unteren Gewichte des Pendels verschieben. Das Untersetzungsgetriebe überträgt die Drehung auch auf eine Stundenscheibe und eine Minutenscheibe. Eine der interessanten Eigenschaften unserer Aero-Uhr besteht darin, dass die Zeit nicht mit rotierenden Zeigern auf dem Zifferblatt abgelesen wird, sondern dass ein feststehender Zeiger die Zeit auf den langsam rotierenden, nummerierten Stunden- und Minutenscheiben anzeigt. Darüber hinaus drehen sich diese Scheiben gegen den Uhrzeigersinn – wussten Sie, dass sich einige Uhren vor der Standardisierung im Uhrzeigersinn und andere gegen den Uhrzeigersinn drehten? In der Rolle des "Kuckucks" ist auf der Ugears Aero Clock ein Modell eines Heißluftballons zu sehen. Wenn die Stunde schlägt, sinkt der schwebende Ballon schnell ab und steigt im Laufe der nächsten Stunde langsam wieder auf.

Das Thema der Aero Clock ist die frühe Luftfahrt. Machen Sie eine Zeitreise in die Anfänge des Fliegens und in die "Ballonmanie", die 1783 Frankreich und England erfasste, anlässlich der ersten freien Luftfahrt in einem Ballon. Zwei Jahre später folgte die erste Luftüberquerung des Ärmelkanals durch die unerschrockenen Aeronauten Jean-Pierre Blanchard und John Jeffries. Wir lieben die Steampunk-Sensibilität und den Abenteuergeist dieser Modelluhr aus Holz, und wir glauben, dass Sie das auch tun werden! Stellen Sie sich vor, Sie wären ein Entdecker neuer Horizonte und ein Eroberer der vier Winde. Das Gehäuse und der faszinierende Uhrmechanismus aus Holz stellen einen Luftwaffenstützpunkt inmitten der Wolken dar, wo Zephyren wehen und gefilterte Sonnenstrahlen die Maschinen sprenkeln, während Sie in der Rolle des Aeronauten zu jeder vollen Stunde eine neue Erkundungsreise starten.

Der hölzerne Modelluhrenbausatz von Ugears zelebriert die Rolle von Uhren bei der Erkundung. Wussten Sie, dass das Problem der Längengradberechnung, das für eine genaue Navigation auf See von entscheidender Bedeutung ist, mit einer Uhr gelöst werden konnte? Die Idee wurde 1530 von der niederländischen Mathematikerin Gemma Frisius vorgeschlagen, aber erst Mitte des 18. Jahrhunderts entwickelte der englische Uhrmacher John Harrison eine Reihe von Schiffsuhren, die so präzise waren (mit einer Genauigkeit von einer ⅕ Sekunde pro Tag), dass Schiff Kapitäne konnten endlich ihre Position auf See auf wenige Seemeilen genau bestimmen. Durch die Kenntnis der genauen Zeit in London (Greenwich Meridian Time oder GMT) und die Berechnung der Zeit an der aktuellen Position mithilfe von Himmelsbeobachtungen konnten Navigatoren berechnen, wo sie sich auf der Erdoberfläche befanden. Die Breitengradbestimmung wurde von den Phöniziern bereits 600 v. Chr. mithilfe der Himmelsrechnung ermittelt – sie maßen die Höhe der Sonne zur Mittagszeit oder den Winkel zwischen dem Nordstern (oder anderen Navigationssternen) und dem Horizont. Aber das Längengradproblem würde die Forscher noch weitere 2.000 Jahre lang beschäftigen. Harrison erhielt schließlich den ersten Preis in Höhe von 20.000 Pfund (heute etwa 1,5 Millionen US-Dollar), der im Longitude Act des Parlaments von 1714 festgelegt war, nachdem er die Genauigkeit seiner meisterhaften Uhren auf See unter Beweis gestellt hatte. Jetzt können auch Sie Uhrmacher werden, mit dem Ugears Aero Clock-Modellbausatz!

Die Ugears Aero Clock, eine selbstgebaute Holzwanduhr mit Pendel, wurde zu einem Zeitpunkt auf den Markt gebracht, in dem die Welt langsamer geworden zu sein scheint. Sie ist in ihrer schlichten Eleganz sowohl zeitgemäß als auch zeitlos. Dieses schöne und funktionale Holzwanduhrmodell ist für Uhrmacher, für Bastler, für Entdecker, für Kreative und Romantiker aller Couleur, für alle, die bereit sind für neue Herausforderungen und bereit, Risiken einzugehen. Wenn Sie jemals in den Himmel geschaut und gedacht haben: "Ich möchte dort sein!"" oder schaute auf eine Pendeluhr und fragte sich: "Wie funktioniert das?""Dann ist die Ugears Aero Clock genau das Richtige für Sie.

Beim Bau der Aero Clock, einer Holzwanduhr mit Pendel, lernen Sie die Grundprinzipien eines Uhrwerks kennen und lernen, wie der stabilisierende Einfluss eines schwingenden Pendels über einen schaukelnden Anker wirkt und die Zahnräder einer Hemmung sekundenweise verriegelt und entriegelt Dadurch wird das (langsame) Absinken eines Gewichts reguliert, da es sowohl Krafträder als auch Zeitmessgeräte antreibt.

Die Aero-Uhr mit Pendel von Ugears ist ein wunderbares Puzzle und das perfekte Familienprojekt. Wenn Sie diesen DIY-Holzuhren-Modellbausatz gemeinsam zusammenbauen, werden Sie die Befriedigung erleben, gemeinsam etwas zu bauen, und zwar nicht irgendein Modell, sondern eine tatsächlich funktionierende Uhr. Danach haben Sie ein schönes Objekt für zu Hause, an dem sich Ihre Familie im Laufe der Zeit gemeinsam erfreuen kann.

Die Ugears Aero-Uhr mit Pendel ist eine neue und aufregende Ergänzung der Ugears-Kollektion faszinierender mechanischer Modelle, 3D-Puzzles, Spielzubehör, hölzerner Puzzleboxen, Kinderspielzeug und pädagogischer STEM-Lab-Modellbausätze.
Mechanischer Modellbausatz "Aero Clock". Wanduhr mit Pendel
Modellgröße: 29,5*18,5*6,5 Zoll (75*47*16,5 cm)
Maximale Größe des Modells: 220 x 47 x 16,5 cm (86,6 x 18,5 x 6,5 Zoll)
Verpackungsgröße: 37,8 x 17 x 5 cm.

Anzahl der Komponenten: 320
Geschätzte Montagezeit: 11 Stunden
Ebene: Fortschrittlich
Sie können uns für ein PDF-Handbuch oder ein Video-Tutorial kontaktieren.
Payment & Security
Your payment information is processed securely. We do not store credit card details nor have access to your credit card information.