Roll over image to zoom in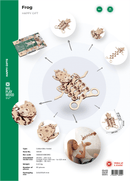 Description
Mr. Playwood | Frog | Mechanical Wooden Model
Model Size (open/locked):

200 x 200 x 30 mm

Number of components: 71 pcs


Material : sanded plywood rubbers elastic yarn wax wooden axles – 2 items

One fine day Mr. Playwood was sitting on a branch and reminiscing about his childhood. Above all, he missed the walks with his Dad around the lake where myriads of toads croaked like an open-air orchestra. Playwood loved to observe the amphibians and examine various plants under a microscope. First, for entertainment's sake, Mr. Playwood taught the children from the wooden planet to imitate the sounds of the amphibians. The children were especially fascinated by the sound similar to 'kwa'. Thus, then, Mr. Playwood designed a wooden toad, so that the people on the wooden planet could play a fun game with their children called 'kwatch', in which it's necessary to run and catch others and touch them with the wooden toad's paws. 
Payment & Security
Your payment information is processed securely. We do not store credit card details nor have access to your credit card information.