Roll over image to zoom in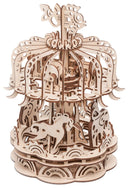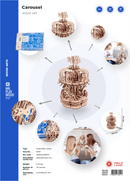 Description
Mr. Playwood | Carousel | Mechanical Wooden Model
The mechanical wooden 3D model Carousel is designed to allow both children and adults to spend an hour of fun assembling a beautiful and functional toy.
The set consists of 159 pieces. It is made of high-quality and sanded plywood with neatly processed edges thanks to modern laser cutting technology. It is connected without glue.
There are two types of horses on the carousel, arranged in pairs parallel to each other, which move up and down when rotating. In the center is a pole, it moves in the opposite direction from the horses. Thus, it seems that the horses are moving very fast.

Materials: sanded plywood, recreation thread, acrylic detail, wax, wood.

Payment & Security
Your payment information is processed securely. We do not store credit card details nor have access to your credit card information.