Roll over image to zoom in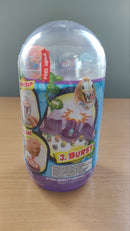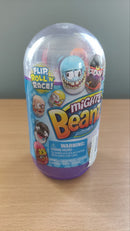 Description
Main features
Product type - Play set
Age - 5+
Gender - For girls, for boys
Product Description
Australian company Moose Toys presents an old hit in a new design - Mighty Beans!
The history of these cool beans began in Australia back in 2002! They have long been known and popular from the Arctic to the Antarctic! New, cool, absolutely crazy bean designs and new games are waiting for you. And as always: collect all 140 beans! Mighty Beans are divided into themed teams: reptile beans, two-faced beans, hairy beans, and many others. Among them are common, rare, very rare, super rare, exclusive, and limited edition beans. They are also distinguished by their "strength", which can be used to measure in games. Gather your cool team of beans, play and win!
About the beans:
1. Unique form factor:
- allows the bean to be constantly in motion (bend, roll, turn over)
- the player simply cannot let go of it
2. More ways to play based on traditional and new fun game variants.
3. Crazy collectible characters with unique designs and different powers.
Mighty Beans game variants: "Knockout" - knock out as many opponent's beans as possible from the arena (it is formed by 4 of any beans) or turn the opponent's beans upside down. The player with the highest M-rating of beans in the arena wins.
- "Quick Hit" (Slam Pack is required for this game). The first bean to hit the center of the arena disk wins; if the situation is disputed, the player with the highest M-rating wins.
- "The coolest bean" - you have to push the beans on a flat surface; the player whose bean is tipped over onto the "head" takes both beans; the player who has all the beans wins.
- "Don't fall off the cliff" - the player whose bean is closest to the edge of the table wins; in case of a disputable situation, the player whose bean has the highest M-rating wins. With beans and Flip Track, you can perform various tricks and play using various tools at hand (books, pillows, and even buckets).
Mighty beans slam pack s1, 8 figures

Each toy contains:

a play track
bean
collector's guide
Payment & Security
Your payment information is processed securely. We do not store credit card details nor have access to your credit card information.