Roll over image to zoom in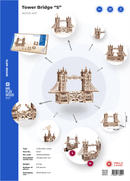 Description
Mr. Playwood | "Tower Bridge S" | Mechanical Wooden Model
Model Size (open/locked):

270 x 80 x 230 mm

Number of components: 226 pcs


Material : sanded plywood rubbers elastic yarn wax wooden axles – 2 items
"Not everybody has a lot of room for big toys, souvenirs, and collections. That's why Mr. Playwood has made a decision to create a new range of his favorite models – 'Small' models.
They are absolutely similar to their older siblings, have the same design and functionality. But they have smaller weight, take less space, and will look harmoniously both on the Big Boss's table and in the children's room.
The model needs no introduction because the real Tower Bridge is one of the most recognizable structures in the World. We made it as accurate as possible, and our version, like its older brother, raise and scales bridges. The model with the assembled form has impressive dimensions and causes genuine interest in both children and adults. A feature of the model is that it can be assembled simultaneously by two people since bridge towers are twins by design."

Payment & Security
Your payment information is processed securely. We do not store credit card details nor have access to your credit card information.