Roll over image to zoom in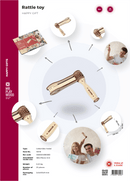 Description
Mr. Playwood | Rattle toy | Mechanical Wooden Model
Model Size (open/locked):

180 x 176 x 42 mm

Number of components: 23 pcs


Material : sanded plywood rubbers elastic yarn wax wooden axles – 2 items
One day Mr. Playwood heard an unusual sound and approached his grandfather to have the source of the sound explained. His grandfather had a great sense of humor and thus he said: "You've heard something, Playwood? …Oh, well, these are ghosts. They are playing hide-and-seek with you…". This really amused little Playwood and cheered him up. Thereafter, his grandfather often told him stories about ghosts.
Lately, Mr. Playwood felt a keen longing for his grandfather and the stories he told. He often went for a walk around the Tree. In order to play hide-and-seek with the ghosts which reminded him of granddad, Mr. Playwood designed the Chatterbox
Payment & Security
Your payment information is processed securely. We do not store credit card details nor have access to your credit card information.