Roll over image to zoom in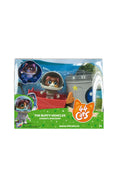 Description
Main features
Product type - Toys figures
Toy size - 3,1 inch (8 cm)
Age - 4+
Gender - For girls, for boys
Product Description
44 Cats action figure Cosmo figure with vehicle
The story begins ...
44 Cats is an Italian animated series that shows the daily adventures of the cats Flash, Milady, Saw and Meatball, also known as The Buffycats - the name of their group. And many other cats and kitties who will meet the main characters in their exciting adventures The Buffycats live in a modern city, in the garage of Pina's grandmother. They turn the garage into their club - a place where all the neighborhood cats come together to have fun, relax and, most importantly... help each other!
This series promotes positive values: altruism, tolerance and acceptance of diversity through situations and messages that are understandable to such a young audience.

Package contents:


The vehicle brings additional play value. It is an exact replica of a cartoon vehicle, with movable and removable elements - confirming the message about waste management (one of the ideas of the series). The character figures differ from those in the blister sets.
Payment & Security
Your payment information is processed securely. We do not store credit card details nor have access to your credit card information.